Microneedling with RF (radiofrequency)
Morpheus8 Microneedling with RF
With age, the skin begins to lose its elasticity, leading to the formation of fine lines and wrinkles, sagging tissues, and volume loss. Microneedling has long been proven to effectively improve the appearance of skin when dealing with the natural aging process.
The amazing news is that advancements in this particular treatment have been made and introduced into the medical arena. One advancement, in particular, has amazing results because it combines two separate therapies into one treatment, like Morpheus8
Morpheus8 is an advanced skin rejuvenation treatment that uses microneedling and radiofrequency technology to stimulate collagen formation, smoothen wrinkles, and tighten and lift the skin of the face and body.
Morpheus8 is a non-surgical, non-invasive face and body treatment that uses the power of microneedling and radiofrequency technology to remodel the deep layers of skin.
The treatment helps to stimulate collagen formation, giving you softer, smoother, radiant, youthful-looking skin. Morpheus8 also addresses adipose tissue (unwanted fat deposits) in large body areas to give you a smoother, more youthful appearance
What does Morpheus8 treatment do?
Morpheus8 is an advanced microneedling and radiofrequency treatment. It uses tiny needles and heat from radiofrequency waves to perform controlled skin injury. The damage stimulates the skin to repair and renew itself through increased skin cell turnover and collagen formation. The result is healthy new skin that glows and defies age.
Morpheus8 can be used to improve common concerns like jowling, nasolabial folds, under-eye bags, fine lines, and wrinkles, including frown lines and acne. The treatments can also be done on larger body areas like the abdomen, arms, and knees for a smoother appearance.
Is Morpheus8 better than microneedling?
As mentioned above, microneedling alone is an effective treatment. However, with Morpheus8, the added heat from the radiofrequency (RF) waves promotes elastin and collagen formation to an even greater degree. This means you get more dramatic results at a faster rate after Morpheus8 treatment. Also, microneedling plus RF may reduce the need for follow-up treatments.
Some of the key advantages of the advanced Morpheus8 platform include:
Morpheus8 delivers heat to the deepest tissue depth (up to 8 mm).
The device has dual handpieces that allow effective treatment of both small and large body areas.
Morpheus8 has four fractional tips with varying configurations of microneedles. This allows us to customize the treatment depth according to your specific skin concerns and aesthetic goals.
The Burst Mode RF technology in Morpheus8 deploys bipolar RF energy to treat tissues at three different levels in a single cycle, significantly reducing treatment time.
Morpheus8 is safe for all skin types, including darker skin tones, with little risk of PIH (post-inflammatory hyperpigmentation). PIH can be a major concern with some laser skin resurfacing treatments.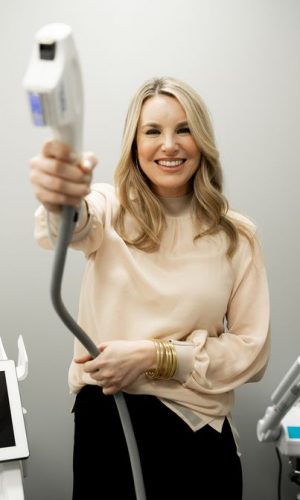 Tabatha graduated in 2015 with her Esthetics license and has been loving her career-change ever since. She is passionate about skincare and this forever-growing & changing industry, loving on her patients, and helping them feel better in their own skin!
"*" indicates required fields