Bothered by your double chin? You aren't alone!
The American Society for Dermatologic Surgery study in 2015 found that:
67% of people said they're bothered by double chin or fullness under the chin
People are just as bothered by a double chin as they are by lines and wrinkles around and under their eyes
KYBELLA® (deoxycholic acid) injection is the first and only FDA-approved injectable treatment that can take care of your double chin non-surgically by reducing moderate to severe fat on the upper neck.
The procedure typically lasts about 30 minutes and there is little to no downtime. Most patients can return to their normal activities immediately.
Deoxycholic acid is the active ingredient in KYBELLA®. It is a naturally-occurring molecule in the body that aids in the breakdown and absorption of dietary fat.* With KYBELLA® Deoxycholic acid is injected in the fat below the chin and breaks those fat cells down. Once removed, those cells cannot store or accumulate fat.*
Some patients may experience some swelling, bruising, numbness, or pain around the treatment area.*  Feel free to call us and we will answer any questions you may have!
Depending on what chin profile you desire, your treatment provider can tailor a treatment regimen that's right for you. Most patients notice visible results in 1-3 treatments but you can receive up to 6 treatments.*
Once fat cells are removed, they cannot grow back!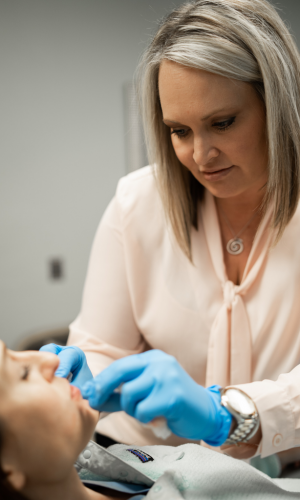 Charlotte has been CANS-Certified since 2018, and is one of ONLY eight CANS-Certified RN's in the entire State of Georgia!
What does CANS-Certified mean? Certified Aesthetic Nurse Specialist (CANS) certification provides professional recognition for aesthetic nurses who hold the value of education, clinical practice, and professional growth in the highest regard. Ultimately, CANS certification can assure you that your aesthetic nurse has gone above and beyond to ensure you receive the optimal level of care for your cosmetic needs. It is also supported by the American Society for Aesthetic Plastic Surgery (ASAPS).
Charlotte is constantly training on new injection techniques and procedures to better herself — and her patients reap the rewards!
"*" indicates required fields